It's looking like we're not going to manage our own Halloween party this year (sympathy please) so I thought I'd instead torment myself my gazing longingly at some of the gorgeous Halloween inspired ranges out at the moment. And then I was swiftly disappointed.
There are massive discrepancies between the straight sized Halloween ranges and the Plus Size Halloween ranges. I can only assume that they think us fat women don't like Halloween, and as you can see from my username and general interests they are totally righ… oh no, wait. Wrong. Totally, mindblowingly wrong. As soon as the date rolled around to October the 1st my timeline (of predominantly plus size women) went nuts for Halloween, it was like someone had opened the floodgates. Or the elevator doors..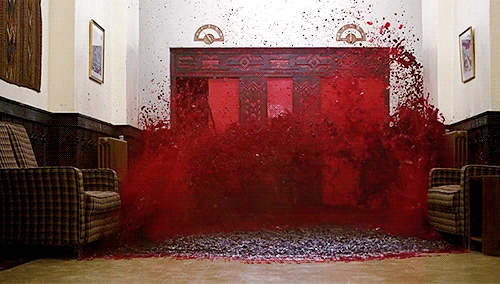 Take Boohoo for example, there are 24 items in sizes 4-16, and only 3 (!!!) in sizes 18-24. Three. I feel so spoilt. So Boohoo, you are not on my wishlist. Possibly on my hex list.
New Look fares slightly better (to be fair, they couldn't be worse, could they?) with 144 items in sizes 6-16 and 53 in sizes 18-30, but still, that's almost 3 times as many in the straight size range.
ASOS looked really promising if I included size 16 in the plus size range rather than straight size, but if I sort it with 18 as the lowest plus size (which is the size they say their Curve range starts at) it looks better than the previous two, but still really crap. 72 items in 2-16 and 42 items in 18-28.
And if I decide to go look under their Curve range? A grand total of 11.
So what filled my dark little heart with joy only to shatter it?
Boohoo first, I saw this stunning skirt in their promotional email and thought it'd be a perfect edition to my wardrobe, so I eagerly clicked and…
<sighs>
Nevermind then.
The velvet dress with the lace sleeves is just so perfect, and god knows plus size women look amazing in velvet.
On New Look I was spoilt for choice.. well, if I was slim.
Just look at all that gorgeous black lace and that gorgeous slinky sequin dress! Just beautiful! But nope, not allowed.
ASOS now, who always seem to bring out the most gorgeous Halloween clothing, I'm still gutted I missed their ghost dress last year! How disappointed am I that none of these gorgeous items are available in plus sizes! Especially that excellent bat dress!