The last few days have been incredible, and quite emotional. I've never seen anything quite like it, and will always treasure having been there for it.
It all started with Plus Sized Wars, a programme on Channel 4 about plus size bloggers and plus size fashion. As the time approached for it to air almost my whole Twitter timeline seemed to be holding it's breath. Was this going to be a horrific car crash of a TV show? Were we going to see beloved bloggers used as cannon fodder in the name of controversial television?
It turns out, no.
It was a mostly well done programme which showed the bloggers, fans and (most of) the stores in a positive light. It wasn't a freak show full of "look at the fatties!". I mean, there were hints that it might be positive, for example the Daily Fail had already called it horrific, glowing praise really, but you still worry.
Instead it followed the bloggers as they talked about fashion, how they got into blogging, their confidence, and it showed her far their influence stretched. These wonderful women were shown to be the strong, beautiful, confident women that they are.
I feel I should now introduce any followers who didn't see it to some of the main faces on the show.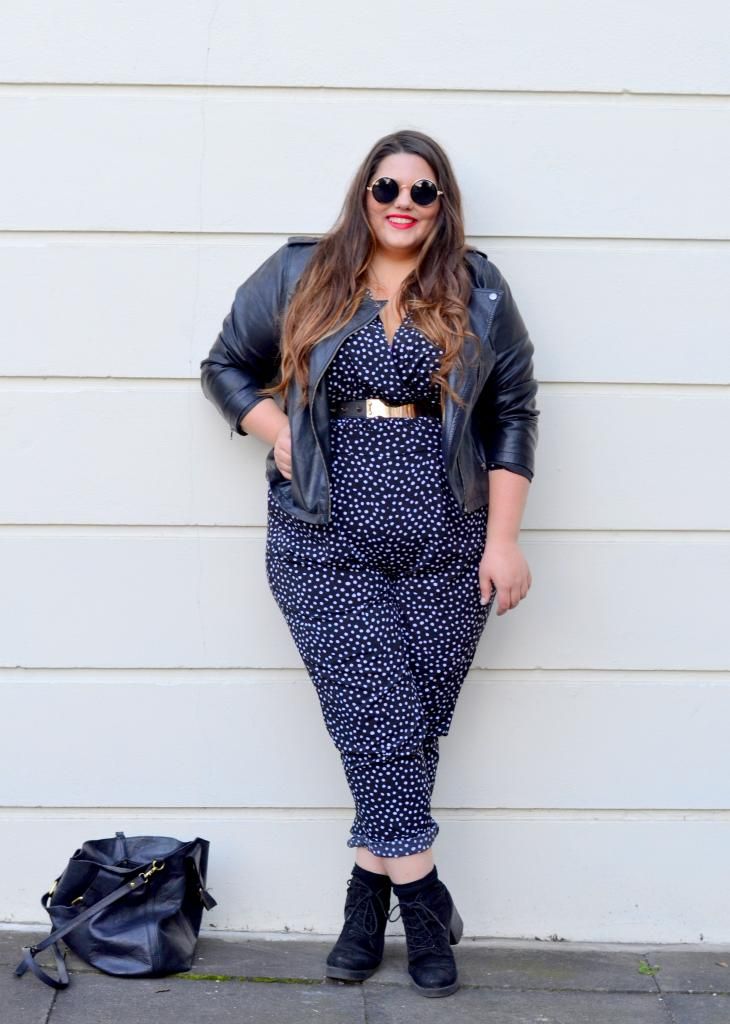 Now my Twitter timeline changed, the messages flowing between the bloggers actually appearing on the show and those watching were full of love and support. Even the two bloggers, Bethany and Georgina, who were edited to make them look like they didn't like each other.
And it wasn't just aimed at the bloggers appearing, people were sending messages to others who'd inspired them, or to friends.
While the show's hashtag filled with the usual fat hating bullshit, my timeline filled up with sisterhood and solidarity.
From my point of view, I'd only started blogging about plus size stuff last month (27th March!) and yet, here I was, not an outsider looking in, but accepted in to the sisterhood of plus size women with open arms. Sharing their joys and frustrations.
My appreciation for the plus size brands went up too, I'd like to apologise to Evans right now in fact. I'd always written them off as being pointless and a bit rubbish, but seeing the way they spoke about and handled plus size fashion gave me a massive appreciation for what they do. I already had a lot of love for Yours, and this cemented it.
It didn't end there though.
The next day Jamelia (apparently she was a pop star, and is now a rent-a-gob) appeared on Loose Women to argue that plus size women and skinny women shouldn't have easy access to nice clothes. She allowed that they might have some access to nice clothes, but only if they were made to feel suitably "uncomfortable" when buying them.
I think everyone should have access to lovely clothes, BUT I do not think it's right to facilitate people living an unhealthy lifestyle, I really don't..

In high street stores you're catering for the average woman, there's a healthy range, and I don't believe stores should be providing clothes for below that range or above that range. I'm not saying nowhere should, I believe that, yes, have specialist shops, but I do think that you should feel uncomfortable if you are unhealthy.
As she's denying she ever said anything like that I figured a transcription of her comments would be relevant.
She then later clarified her comments by saying she meant women below a size 6 and women over a size 20.
For the record, I'm a size 18 to 20. Though have been known to need a size 22 (or even a 16) in some brands. Seems I'm occasionally acceptable by her standards.
A lot of rage followed, understandably.
Then @Debzjs of The Not So Secret Diary of a Wannabe Princess had an idea for a reaction to Jamelia that would be positive. Although I suspect she had no idea what she was about to achieve!
She explains her motives here, but the gist is that where Jamelia kept talking about "they" it was a very impersonal and dehumanises women at either end of the dress size scale. It makes it far easier to say "they should feel uncomfortable" if you don't have to think about the people as people. It's especially important given the media's habit of illustrating articles about fat people with headless bodies. We are often dehumanised.
So Debzjs started #WeAreTheThey to show those women, to say they are people worthy of respect, and who don't deserve to be shamed.
The response was just amazing, I was actually away from my computer at the time it was due to start, but by the time I got back to my computer (a mere half hour later) it was trending and my timeline was glorious!
Hundreds of women were standing up, and standing together, to say "We matter".
And still the messages of support, of love, of acceptance filled the gaps between the images of bold, confident women. What I loved about this, is it wasn't just about plus size women, we stood shoulder to shoulder with those under a size 6, we stood shoulder to shoulder with "average" sized women who also thought we all mattered. It was a huge, powerful, loving demonstration of what sisterhood can be.
I don't even feel like I've done last night justice, there just aren't the words. There were a few times yesterday evening where I could have cried with joy.
I still feel like I'm ready to take on the world, knowing that wonderful things like this can happen. And I know that many of us formed bonds last night that have changed us.
#WeAreTheThey and we do not deserve to feel uncomfortable pic.twitter.com/JnVHkeKlz6

— MurderOfGoths (@MurderOfGoths) April 22, 2015
Here are some of the tweets from last night, with special mentions to those who influenced me to start blogging about plus size issues, @bettypamper, @ffigurefbust and @tessmunster.
Clothing isn't a privilege & a lower dress size doesn't afford you higher status #WeAreTheThey pic.twitter.com/kYrEql65JG

— Perelandra Beedles (@pamperandcurves) April 22, 2015
.
Hideous and unworthy of fashion. Yip! That's me! #WeAreTheThey pic.twitter.com/yNtnOVyeXE

— Hayley Stewart ✨? (@curvesncurlsuk) April 22, 2015
.
I'm beautiful. I'm confident. I'm sexy. I'm loved. I'm successful. Oh, I'm also FAT. Deal with it! #WeAreTheThey pic.twitter.com/kBIzt8BSOn

— Emma @ My Vintage (@emmabphilosophy) April 22, 2015
.
"They should be made to feel ashamed"… THEY are people. THEY have faces. @Jamelia #wearethethey pic.twitter.com/KVYV0RoEYW

— Unicorns&Laserbeams (@theimpossiblekj) April 22, 2015
.
Check out @Debzjs latest post and get involved. Never hide, never back down. #WeAreTheThey pic.twitter.com/hYs5dq0yOw

— Becky Barnes (@beckybarnesblog) April 22, 2015
.
Fashion is about personal expression and style not about a dress size #WeAreTheThey and we rock what we've got! pic.twitter.com/1WveAO82OT

— Mayah (@MayahCamara) April 23, 2015
.
https://twitter.com/booksandchubs/status/590975770543185920
.
I'm size 6 & I deserve clothes! Every size is deserving! Oh, & more petit sizes please retailers! #WeAreTheThey pic.twitter.com/Y09uI6mR5F

— Kelsey Shepherd Ⓥ (@KelseyShepherd_) April 22, 2015
.
I will not be made to feel ashamed of MY life choices. #wearethey pic.twitter.com/7RAyfDK0kn

— fattyboomtatty.co.uk (@ohmydorothy) April 23, 2015
.
#WeAreTheThey and We #WillNotBeShamed pic.twitter.com/4a8jHSfERP

— The Curvy Kitty (@TheCurvyKitty) April 22, 2015
.
We are the 'they' you speak of. Putting a face and a body to the 'They' #wearethethey @Debzjs @Jamelia pic.twitter.com/d30dUW5yx9

— ucantwearthat (@ucantwearthat) April 22, 2015
.
And of course, I couldn't leave the originator of this excellent hash tag out
#Wearethethey and we will not be shamed! pic.twitter.com/J1bL0rNUJm

— Debz (@Debzjs) April 23, 2015
.